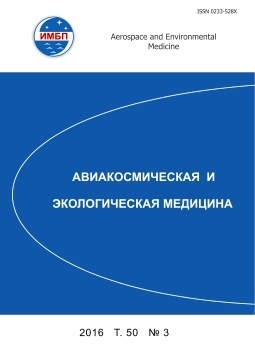 Aerospace and Environmental Medicine
The peer-reviewed scientific and applied journal Aviakosmicheskaya i Ekologicheskaya Meditsina accepts experimental and theoretical papers from the national and international authors on topical issues of aviation, space, marine, diving, sport and ecological physiology and medicine.
The main journal headings are Reviews, Experimental and theoretical research, Clinical investigations, Methods, Short communications, Discussion, Letter to the editor, Commentary, History of space biology and aerospace medicine, News and announcements. The publication does not charge fee from the authors.
Founded in 1967
1967 – 1974 was named "Space Biology and Medicine"
1974 – 1991 – "Space Biology and Aerospace Medicine"
1991 – "Aerospace and Environmental Medicine"
Included in the list of the leading reviewed journals Higher Attestation Commission of the Russian Federation
Founder and publisher
The Russian Federation State Research Center – Institute of Biomedical Problems of the Russian Academy of Sciences (IMBP RAS)
The journal is registered by the State Committee of the Russian Federation for Press 28.02.1995, reg. ¹ 01072, license ID number 05859 on 18.09.2001
The full text of articles available in the database of RSCI (www.elibrary.ru)